Start your day right with the best morning collagen smoothie you'll ever need!
For some people waking up in the morning is not fun – especially when the weather changes, clouds form in the sky and the raining season begins  
As we are positive people, we always try to find the good  .. in the not so good – agree?
Starting your day right can be fun, especially if you prepare breakfast the night before!
This strawberry banana apple morning collagen smoothie ticks all the boxes for a healthy breakfast and gives you a health boost with collagen peptides. 
All it takes are simple ingredients – no sugar – and just 5 minutes to prepare!
Smoothies are an amazing breakfast option!
We have been enjoying a smoothie every day since last month as a means to replace the boring old cereals, (and sometimes, coffee itself).
Making a smoothie is super quick – just put a few ingredients in the blender and mix! Did we say you get all the necessary nutries of your 5-a-day in one glass?
This super quick strawberry apple banana smoothie found its way into our morning table along with our daily Collagen Peptides, that contains no sugar (other than the fruits) and takes all of a few minutes to make. 
What Are Collagen Peptides? 
Our blog talks about collagen and how to add it to your daily routine.
Collagen is an important element for the body which makes up approximately 30% of our bodies' protein. It strengths our body, especially our skin, bones, joints and muscles.
As we age, collagen production drops, and with today's nutrition collagen is likely impacted even more – not to mention the environment around us. That's why we suggest supplementing with Correxiko Collagen Peptides, which are a bioavailable form of collagen.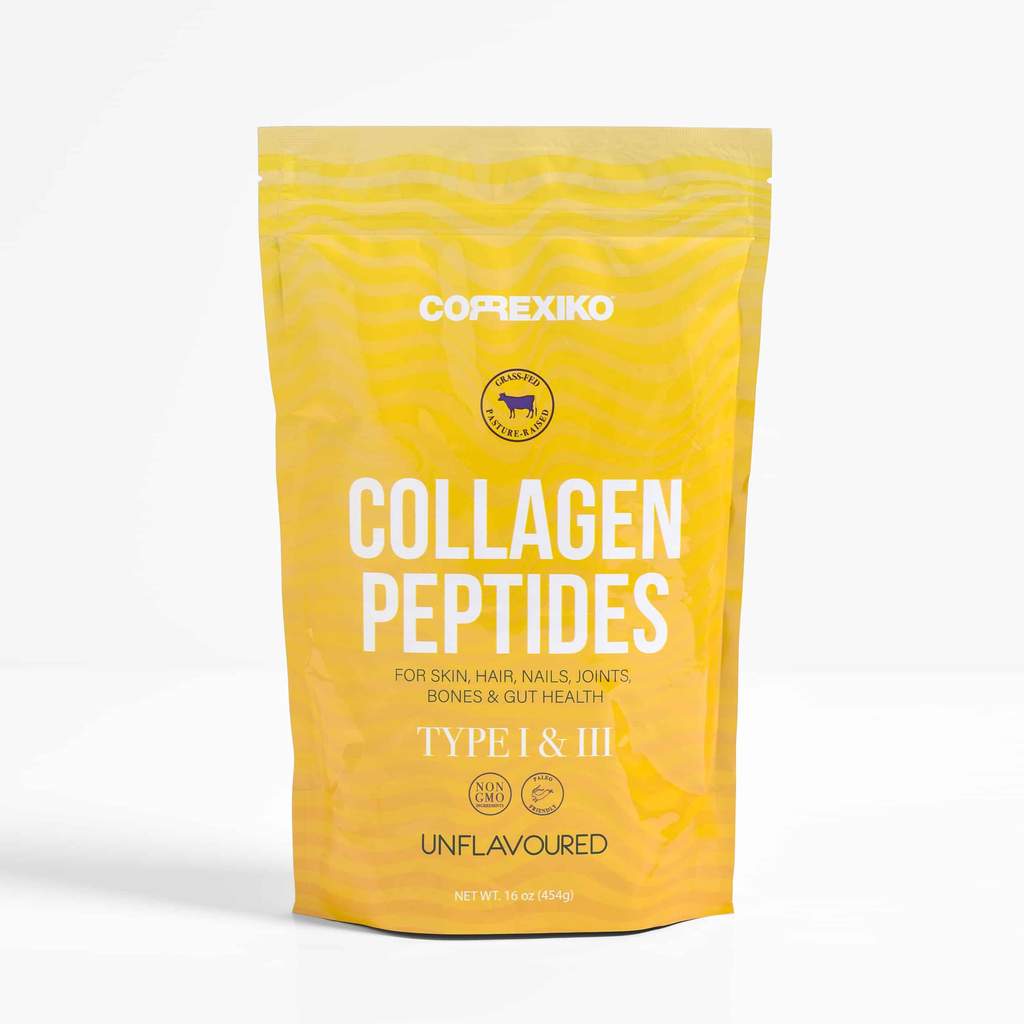 How To Make The Best Morning Collagen Smoothie
The great thing about this smoothie is that it couldn't be easier to make, and it can be done with ingredients (fruits) you already have in your fridge. We had half a bowl of strawberries, so we thought, hm, why not?
Just toss two cups of almond or rice or real milk (coconut works, too) into a blender with some strawberries, a banana (frozen is best),  a whole apple, add one tablespoon of honey, half a cup of oats and two (or more) tablespoons of collagen peptides.
In this case, we used Correxiko Unflavored Collagen Peptides, but you could also use Correxiko Unflavored Marine Collagen which is sourced from wild-caught fish skin.
Once all those ingredients have been added to your blender, just blend for about 30 seconds and there you have it!
The best morning collagen smoothie – a sweet and creamy strawberry banana apple smoothie with a bonus health boost!
Ingredients List
10-15 Strawberries
1 Banana
1 Apple
1/2 Cup Oats
1 Tablespoon of honey
2 Tablespoons of Correxiko Collagen Peptides
Add ice if you prefer it cold.
Mix for 30 seconds.
Pour into a nice glass or jar and enjoy your breakfast!
Collagen-lovers ourselves, we buy quality products for ourselves, and we produce quality products for you because we wouldn't know how to do it any other way.
Once you become involved with a Correxiko product, we know you'll stay loyal simply because there isn't a product out there that can compete on our quality and effectiveness.
Become a Member by signing up for our bi-weekly email newsletter packed with collagen recipes, as well as essential news and insights on healthy hair, radiant skin, stronger nails,  better bone and joint support, gut health, and whole-body care and repair.
Plus, enjoy 10% off with your first purchase and FREE SHIPPING on all purchases above $/£/€100.